2023 Issue #4 - September

2023 Issue #4 - September
This is a recurring newsletter of content around Ballerina and related technology topics such as integration, microservices, distributed systems, and cloud computing.
Not a subscriber yet? Sign up here.
Comparing Ballerina Swan Lake
Apollo vs. Ballerina Swan Lake for GraphQL
In this first comparison, we look at both Apollo and Ballerina for implementing GraphQL APIs. GraphQL's flexibility, efficient data fetching, and improved developer experience are some of the few reasons that make it a powerful choice for implementing the backend for frontend (BFF) architecture, providing enhanced performance and simplified data management for frontend applications. Learn why Ballerina Swan Lake is an excellent choice for GraphQL due to its GraphQL-friendly abstractions.
Java vs. Ballerina Swan Lake for data-oriented programming
We next compare Ballerina and Java for data-oriented programming, which is crucial in modern software development due to its complexity and data-intensive nature of applications. Read this comparison to discover the power of Ballerina Swan Lake for data-oriented programming and see why it comes up on top for efficient data handling and processing.
New use cases: Data-oriented programming, EDA, and B2B
Check out our latest use case on data-oriented programming with Ballerina Swan Lake and discover the seamless synergy between the language and data, enabling an optimized approach to handle complex data scenarios.
Explore Ballerina's Event-Driven Architecture (EDA) capabilities. Whether it's event streaming, data integration, or building reactive systems, Ballerina empowers developers with a seamless EDA experience.
Did you know that Ballerina Swan Lake is the only language with native support for B2B integrations? It enables a seamless exchange of business data with partner networks using standard formats like X12, EDIFACT, and custom EDI formats.
Latest training videos
Whether you're a seasoned programmer or just starting your coding journey, these training videos crafted by the Ballerina team cater to all skill levels and provide a comprehensive understanding of Ballerina Swan Lake.
The three playlists above by Sasindu Alahakoon offer an introduction to some basic concepts of Ballerina Swan Lake.
Anjana Supun shows us how to craft and deploy a real-world Ballerina Swan Lake application in Docker and Kubernetes.
Fathima Dilhasha will guide you through the prerequisites for using the Ballerina Swan Lake test framework.
Upcoming events
Ballerina Tech Talk - The Developer's Journey: Building Integrations the Ballerina Way
Tuesday, September 26, 2023 | 9.30 a.m. PDT
Join Ballerina Platform Architect Sameera Jayasoma at the next Ballerina Tech Talk, where he will discuss the developer workflow process for building integrations with Ballerina Swan Lake. RSVP today and secure your spot.
Conf42: Kube Native 2023

Simplify network services for real-world, cloud-native applications with Ballerina
Thursday, September 28, 2023 | 10.00 a.m. PDT
Want to know how Ballerina streamlines cloud app development? Join Ballerina team member Anuruddha Liyanarachchi at Conf42: Kube Native 2023. Subscribe to this virtual event today!
Past events
Ballerina Tech Talk | Ballerina meets GraalVM: Empower cloud-native applications
Ballerina team member Tharmigan Krishnananthalingam showed us how to build GraalVM native executables with Ballerina Swan Lake. Watch the recording today.
Featured articles
Here's the latest list of technical blog posts curated by the Ballerina community:
Business-to-business integration with Ballerina
by Chathura Ekanayake - The author emphasizes the significance of B2B integrations in digital transformation initiatives.
Ballerina meets GraalVM: From code to native executable
by Tharmigan Krishnananthalingam - The author emphasizes the significance of B2B integrations in digital transformation initiatives.
Unveiling Ballerina GraalVM image: Tackling production issues
by Tharmigan Krishnananthalingam - Learn how to engage profiling and monitoring tools with the Ballerina GraalVM image.
Data modeling and exposing made easy with Ballerina Persist and GraphQL
by Shammi Kolonne - Use the Ballerina Persist and GraphQL modules to store and access data in a data store and expose them through an API.
Build a container with zero effort in zero time with Ballerina Swan Lake
by Thevakumar Luheerathan - This guide provides a thorough understanding of containerization.
Representing graph data structure in Ballerina
by Prakanth Thilakaraj - Learn how to create new object types with Ballerina using its type definition syntax.
Expose a simple Ballerina program as an AWS Lambda Function
by Praneesha Chandrasiri - Learn how to expose a simple Ballerina program as an AWS Lambda Function.
Invoke an Azure Function via a Cosmos DB trigger using Ballerina
by Praneesha Chandrasiri - Learn how to use a Cosmos DB connection to invoke an Azure Function, a Ballerina program.
Ballerina program execution flow
by Nadeeshan Dissanayake - Brush up your knowledge on Ballerina packages, modules, and how a Ballerina program is terminated, and understand the language's program execution flow and module life cycle.
Transport layer security in Ballerina — SSL/TLS with HTTP
by Anupama Pathirage - This blog discusses how to write secure web services and clients using Ballerina and HTTP with SSL/TLS.
Featured X posts
This edition highlights Indusara Jayasoma, Chamupathi Gigara and Nicolai Parlog for showing us how they use Ballerina Swan Lake. Thanks again for your support!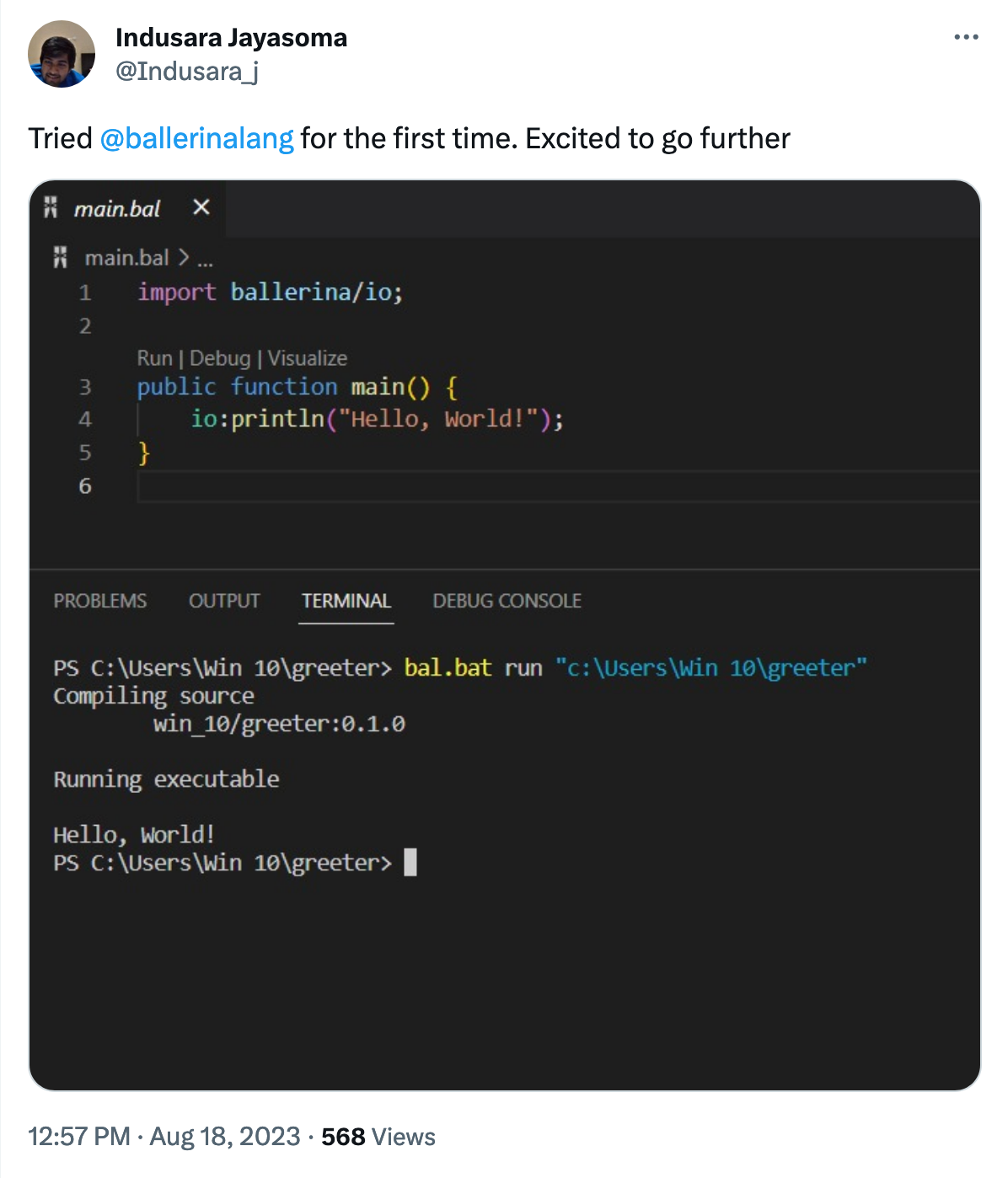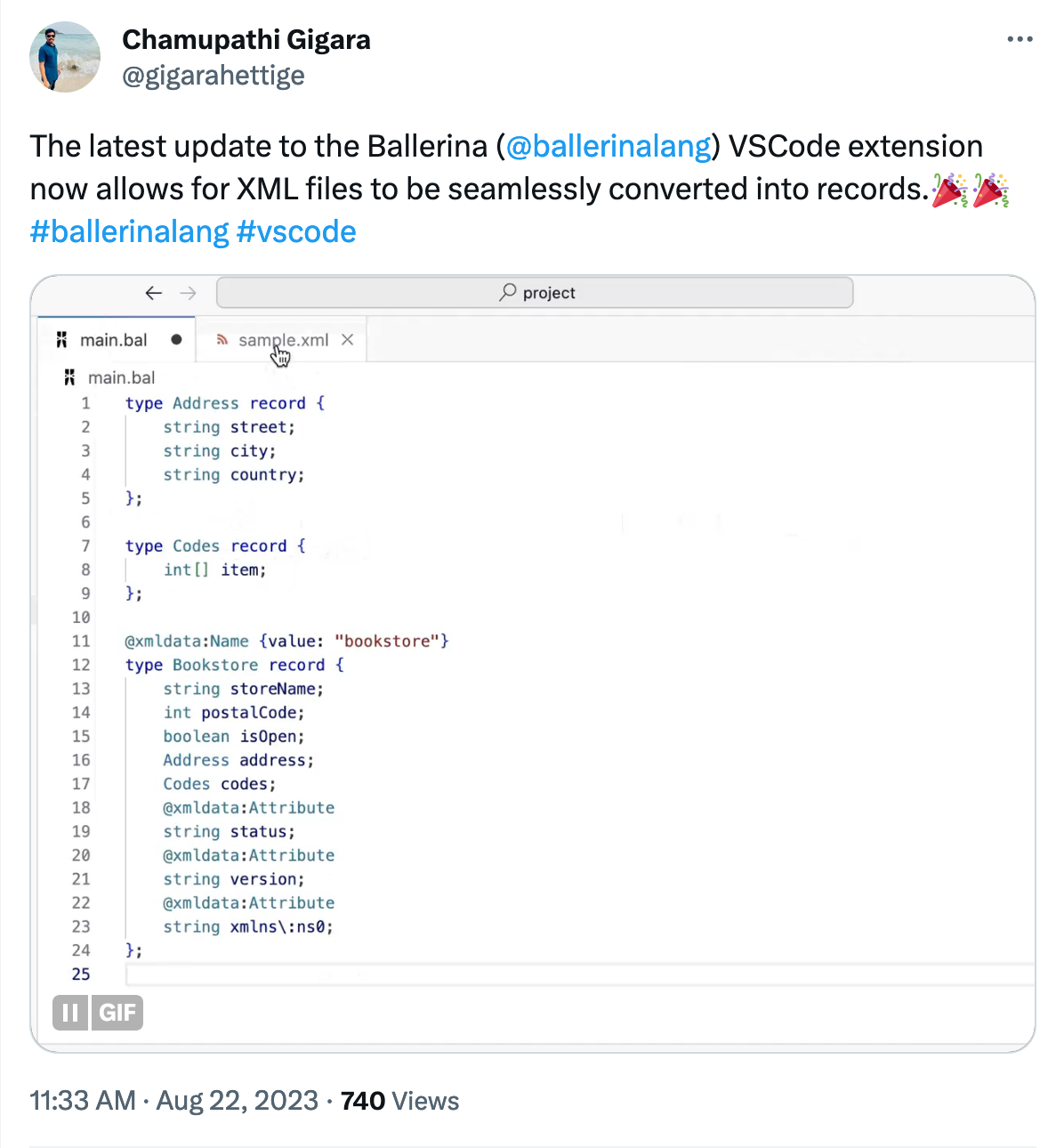 Join the community
Be a part of our growing community by joining the Discord server and following us on X. Mention @ballerinalang with the hashtag #ballerinalang when you tweet about us and have a chance of being featured in our newsletter! Remember to subscribe to our YouTube channel. You can also show us your support by starring Ballerina's GitHub repo and following us.
---
You are receiving this because you signed up for the Ballerina.io newsletter. If you'd like to stop receiving these emails, simply unsubscribe.
If this email isn't looking quite right, you can view it in your browser. Did someone forward this issue to you? Subscribe at Ballerina.io and get it in your own inbox.
Want to get hand-picked content and the latest news on Ballerina delivered directly to your inbox? Then subscribe to our newsletter today!