Issue #8 - October 27, 2022
This is a recurring newsletter of content around Ballerina and related technology topics such as integration, microservices, distributed systems, and cloud computing.
Not a subscriber yet? Sign up here.
The Ballerina Coding Challenge
We'd like to congratulate the winners of last month's Ballerina Coding Challenge:
1st Place: Vincenzo Pisano
2nd Place: Arun Joshua
3rd Place: Probably Arth
We also had 25+ participants who were eligible for a consolation prize. Find out who they are by visiting the Announcements channel on our Discord server.
We'd like to thank over 1,500 developers from 90 countries who participated in this challenge, which involved solving a set of problems using Ballerina. We hope everyone enjoyed learning about Ballerina firsthand and identified the language's capabilities to optimize network services.
Join our Discord server
Ballerina has officially moved from Slack to Discord, and we're excited to have you be a part of our new community. Click here to join the Ballerina server.
You can use this platform to ask questions, share use cases, or simply connect with over 1000+ like-minded developers. Read our blog here to find out more about this transition.
Featured articles
Secure a Ballerina REST API with OpenID Connect Using Asgardeo - Parts 1 and 2
In this two-part tutorial, WSO2 Developer Relations Advocate Dakshitha Ratnayake secures a Ballerina REST API by configuring JSON Web Token authentication for OpenID Connect with Asgardeo as the identity provider. Click here to read part 1.
In part 2, she demonstrates how to create resources in the API and authorizes access to the resources.
Troubleshoot Ballerina Runtime Using the Strand Dump
With the latest release of Ballerina Swan Lake Update 2, a tool to generate the strand dump during the execution of a Ballerina program was introduced. In this blog post, WSO2 Software Engineer Nadeeshan Dissanayaka explores why we need the strand dump tool and how it can be used.
Upcoming events
KubeCon + CloudNativeCon North America
The WSO2 team will be at KubeCon NA from Wednesday, 26 - Friday, 28 October 2022. Come visit us at Booth P12 to learn about Ballerina and find out about our other solutions - Choreo and Asgardeo. Click here for more details.
Build Stuff Conference
Catch Ted Neward at Build Stuff on Wednesday, November 9, 2022, at 2.30 p.m. (IST). Ted will be presenting "A Busy Developer's Guide to Ballerina." Click here for the full schedule.
Featured Tweets
In this month's Featured tweets, we are spotlighting @lashewi, @indrachapa93, and @ramithrocks for showing us how they use Ballerina. Thanks again for your support!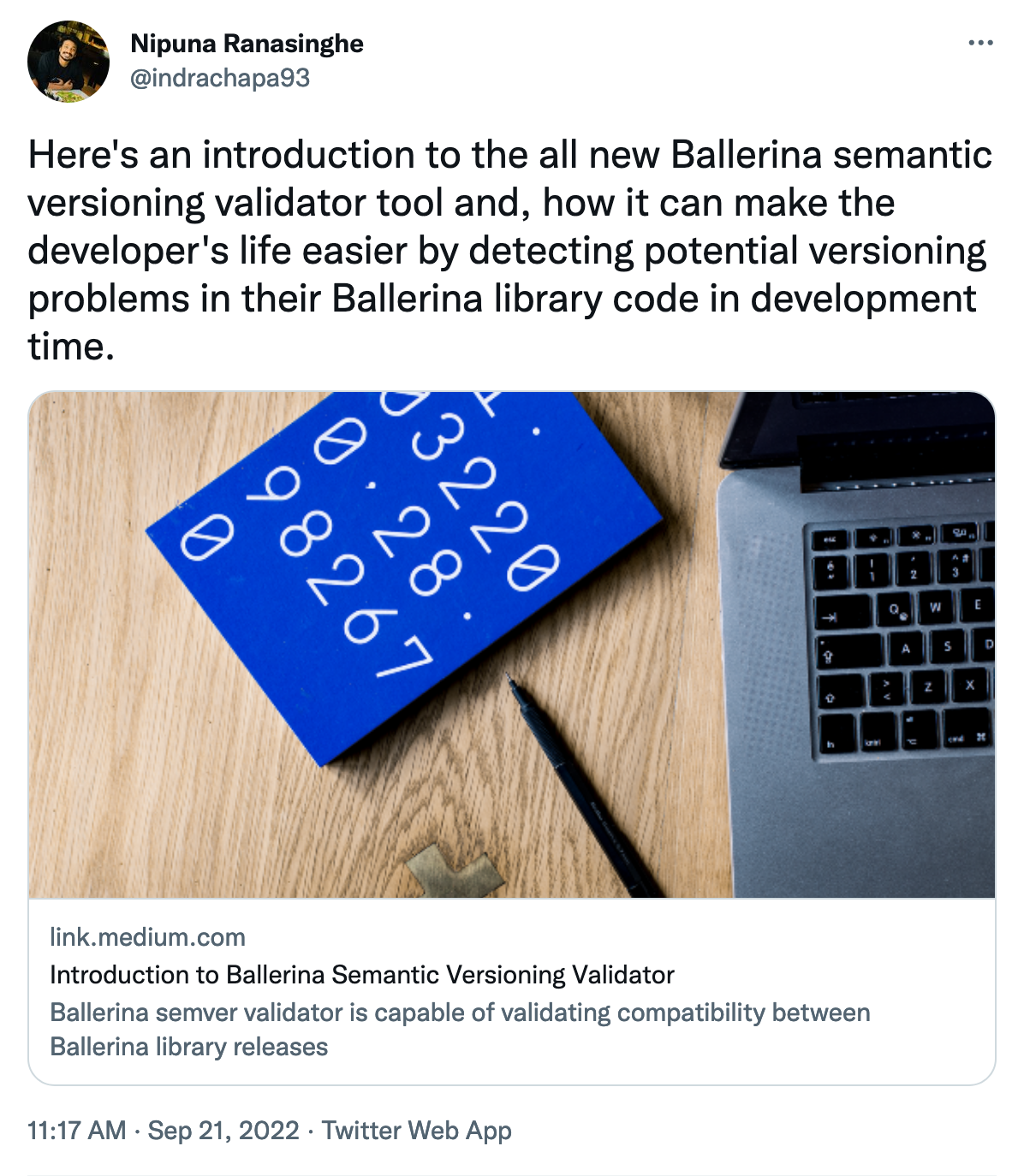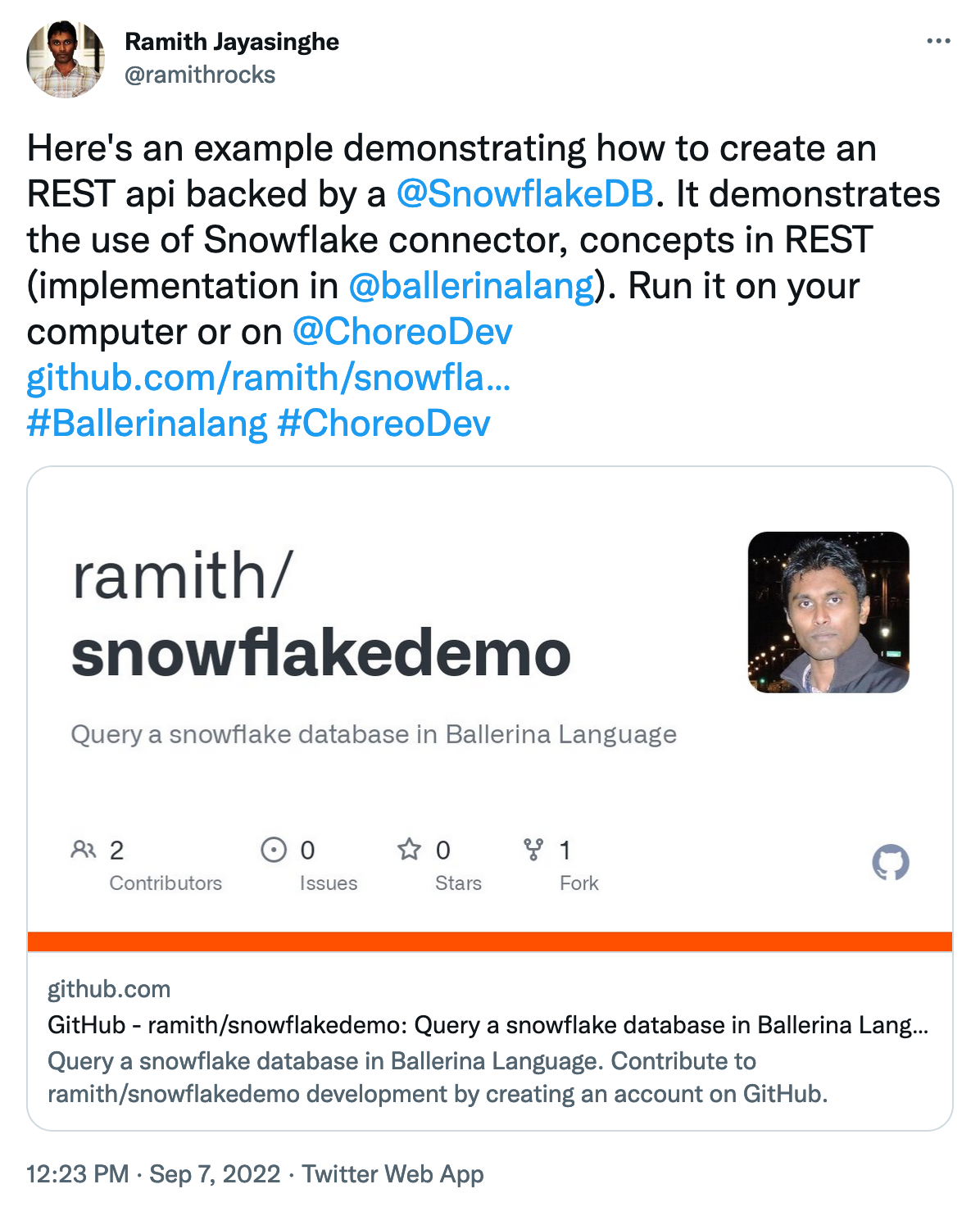 Join the community
Join our community and get to know the latest news about Ballerina by joining our Discord server and following us on Twitter. Mention @ballerinalang with the hashtag #ballerinalang when you tweet about us and have a chance of being featured in our newsletter! Don't forget to subscribe to our YouTube channel.
You can also show us your support by starring Ballerina's GitHub repo and following us.
Until next month,
The Ballerina Team
Want to get hand-picked content and the latest news on Ballerina delivered directly to your inbox? Then subscribe to our newsletter today!