Issue #4 - May 31, 2022
This is a recurring newsletter of content around Ballerina and related technology topics such as integration, microservices, distributed systems, and cloud computing.
Not a subscriber yet? Sign up here.
Ballerina: a data-oriented programming language
"I see Ballerina as a general-purpose programming language, whose approach to data makes it a great fit for building information systems."
- Yehonathan Sharvit
In this InfoQ article, Yehonathan Sharvit, author of Data-Oriented Programming, explains how Ballerina's flexible type system brings the best of statically typed and dynamically typed languages in terms of safety, clarity, and speed of development.
Featured blog posts
Why Ballerina is a language
Ever wondered why Ballerina is a programming language instead of a framework or library? Read this blog post by Ballerina's Chief Designer, James Clark to find out.
Intuitive REST APIs and JSON handling with Ballerina
In her latest blog post, Associate Director and Program Manager - Ballerina, Dakshitha Ratnayake, provides a beginner-friendly guide on working with REST APIs and JSON in Ballerina. This includes simple and interesting examples that use and create REST APIs. Click here to find out why Ballerina is a great fit for your next API project.
Ballerina WebSocket service — the anatomy
To receive messages, a WebSocket service in Ballerina has a predefined structure for remote functions. Users can decide which remote functions they need for their use case and implement just those functions. Bhashinee Nirmali's latest blog post talks about the structure of a Ballerina WebSocket service and points you to some use cases.
Upcoming and past events
Ballerina: cloud-native middleware as a programming language
Wednesday, June 8, 2022 | 6:10 a.m. (EDT)
Join WSO2's Director of Engineering, Anupama Pathirage, as she presents Ballerina at the 2022 Women in Tech Global Conference on Wednesday, June 8, 2022 at 6.10 a.m. (EDT). Click here to reserve your spot and watch a live coding session on real-world examples of how Ballerina can boost developer productivity.
Ballerina: a language to develop, consume, and combine network services
Last week, WSO2 Senior Director, Platform Architecture, Sameera Jayasoma, presented Ballerina at the San Francisco Java User Group meetup. Missed it? Click here to watch the recording.
Featured Tweets
On this month's featured tweets, we are spotlighting @viebel, @shafreen101, and @cpurdy for showing us how they use Ballerina. Thanks again for your support!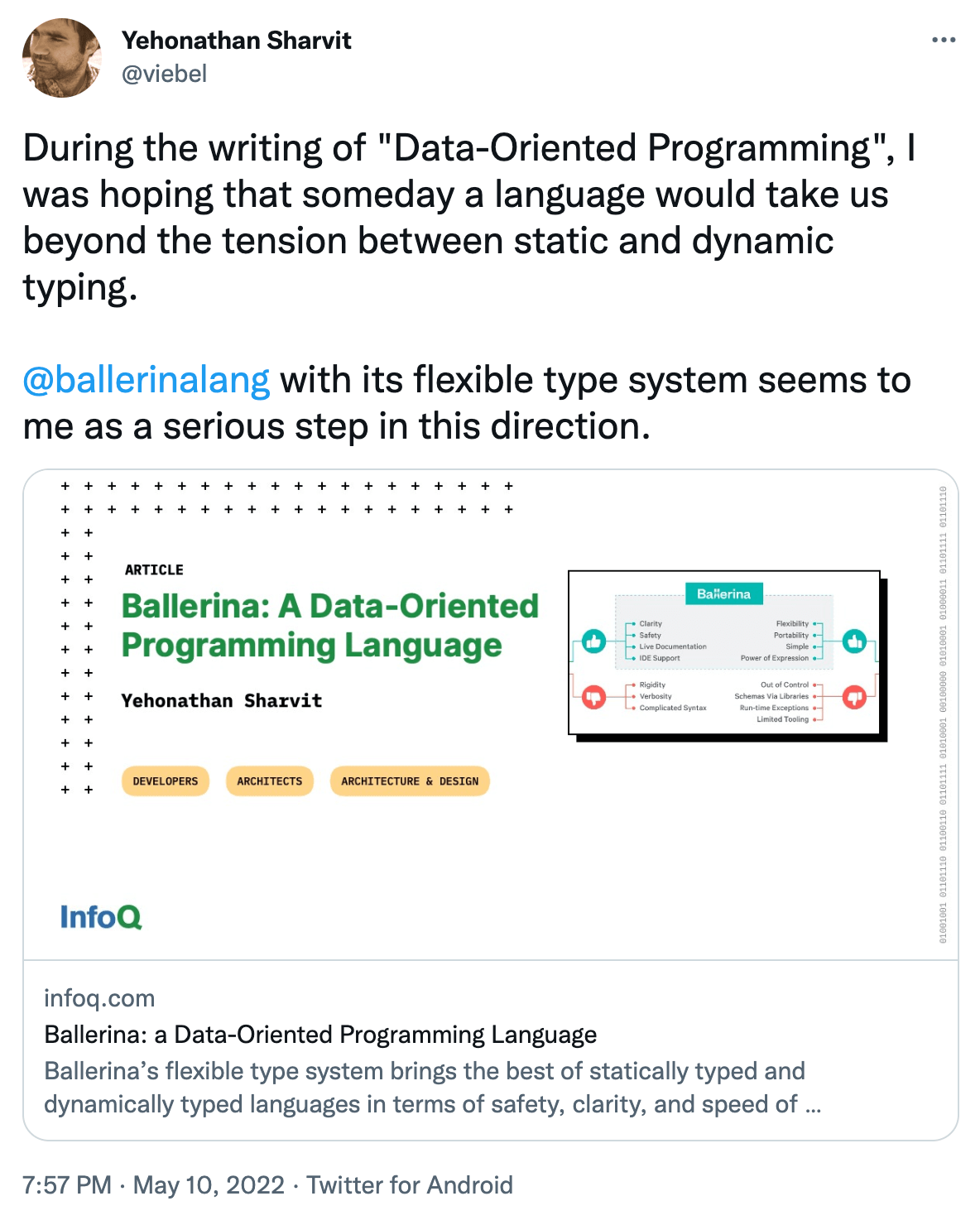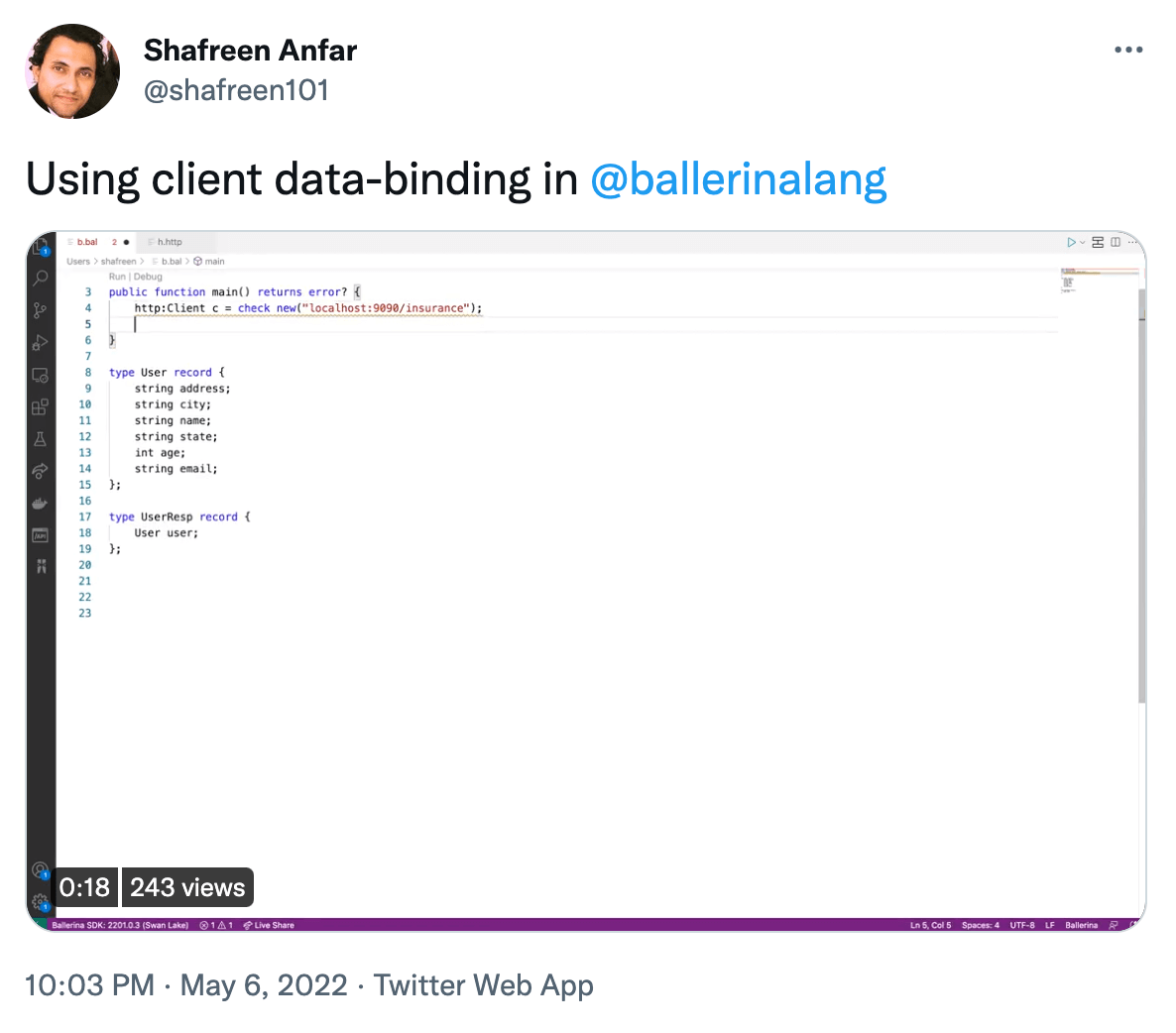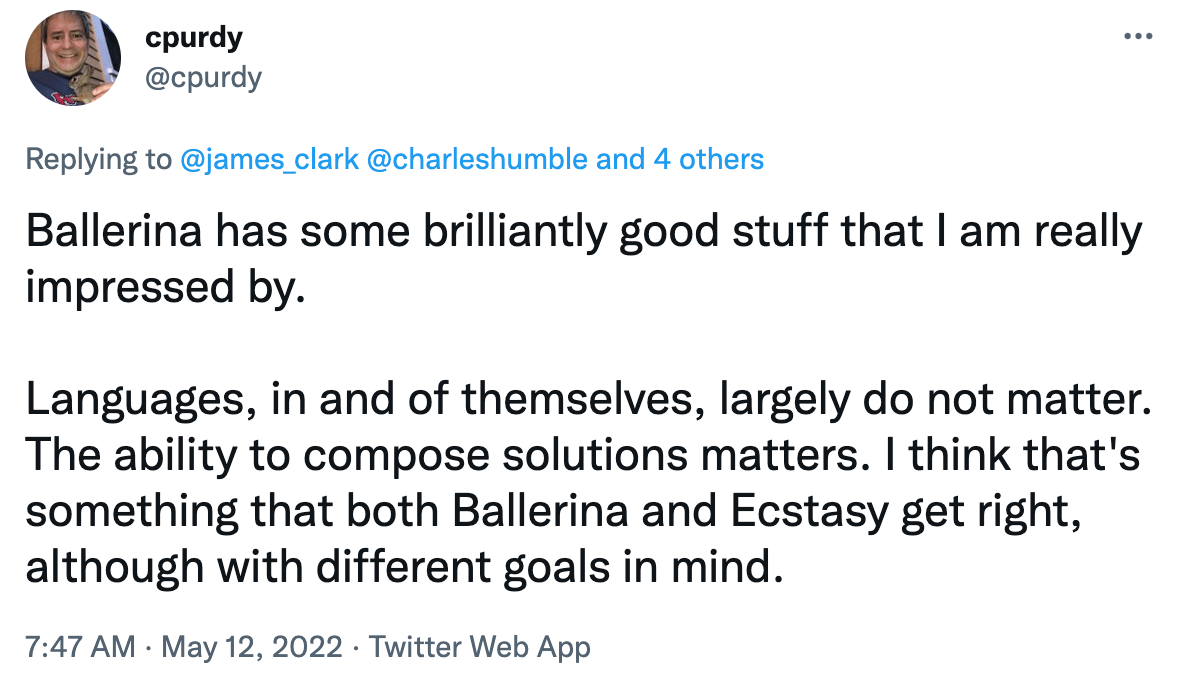 Support us
Join our community and get to know the latest news by following us on Twitter. Mention @ballerinalang with the hashtag #ballerinalang when you tweet about us and have a chance of being featured in our newsletter! Don't forget to subscribe to our YouTube channel.
You can also show us your support by starring Ballerina's GitHub repo and following us.
Until next month,
The Ballerina Team
Want to get hand-picked content and the latest news on Ballerina delivered directly to your inbox? Then subscribe to our newsletter today!